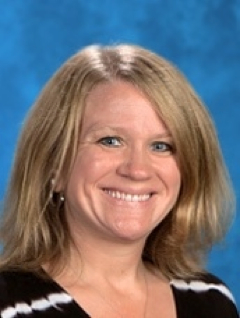 I feel so fortunate to work in such a pleasant environment as the one here at SMHS. Everyone here not only wants each student to become a happy, well-rounded, successful young adult but also works hard to ensure that it happens.
After graduating from CCHS in 1990, I obtained a degree in Economics from Centre College in Danville, Kentucky, and worked in the private sector for two years. I had, however, always had the desire to teach so I returned to school and completed an M.S. in Curriculum and Instruction. I taught second grade at Crossville Elementary and then, when it opened in 1999, at Stone Elementary. While there, I also taught seventh grade math and coached several sports (boys' and girls' volleyball, Cheerleading, and, yes even football). After my second child was born in 2006, I stayed home for a while and completed my Ed.S. in Instructional Leadership. I came back to work in the fall of 2009 as an Algebra 1 teacher here at SMHS and became a vice-principal in January of 2010.
My husband, Jarnie and I have two daughters, Chloe and Phoebe. I enjoy running, spending time with family, and reading.
Philosophy of Education
I believe that the purpose of education is to address emotional, social, physical, and intellectual needs of children in order to prepare them to make sound moral and rational choices as contributing members of our society. Students learn in different ways and should be provided a learning environment that reflects the best methods and practices for instruction and assessment while recognizing and accommodating individual differences, interests, and abilities. Learning is best achieved when we acknowledge and celebrate diversity within all aspects of our community. Students' learning needs should be the main focus of all decisions in the school and should be a collaborative process involving those closest to the issue being addressed. The student, the family, the school staff, the administration, and the community create the educational partnership and share responsibility for success in learning. Communicating openly, honestly, and effectively in an atmosphere of mutual respect is vital to an educational partnership. Providing a safe, secure, positive environment is also essential for optimal learning for all students.